2.12.2019.
Same-day delivery in urban areas
Zagreb, 2 December 2019
– Croatian Post has taken over Locodels, thus making a significant step forward in the market. The possibility of same-day delivery, which is available in the urban area of the City of Zagreb and neighbouring areas, is now added to the list of services provided by our company to contractual customers. This new service will strengthen the strategic orientation of Croatian Post towards digitisation of core business processes and at the same time increase the company's focus on the customer.
Introduction of sharing economy in business models is a trend present in the markets worldwide and the takeover and further development of Locodels will also allow us to efficiently expand our partner network. In the Business Development Strategy Post2022, the objective set by Croatian Post is to establish presence in new markets based on developing core business processes and establishing strategic partnerships. Locodels takeover is one of the planned partnerships of Croatian Post which will allow for focused expansion to a new market.
"Takeover of Locodels was a logical step for us and it follows the Business Development Strategy Post2022, which is particularly focused on developing core business processes and entering new markets. During the last two years, within digital transformation, Croatian Post has made numerous steps forward and this new service will undoubtedly be of great benefit to our corporate users in the near future," stated Ivan Čulo, Croatian Post's CEO.
As a strategic guideline, digital transformation to Croatian Post represents adjustments to the existing and introduction of new services for the purpose of offering users of its services exactly what they want. We are operating in an age when smart solutions, artificial intelligence and similar notions are part of our everyday lives. Therefore, our teams have been developing solutions of this type – robots, autonomous vehicles, augmented reality, data analysis and the internet of things (IoT). Based on all these activities, it is beyond doubt that besides same-day delivery, Croatian Post will soon offer a great number of other innovative solutions for users of its services.
The objectives set in the Strategy Post2022 are being met and the company is fulfilling its mission – to be at the service of citizens.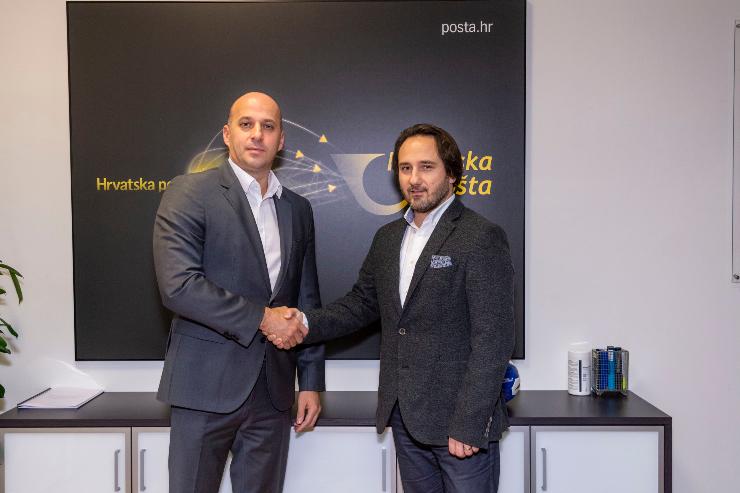 Ivan Čulo, Croatian Post's CEO and Stevica Kuharski