Look at our evotv, he's 5 years old already!
Zagreb, 8 November 2017
– evotv, Croatian Post's digital television, celebrates its fifth anniversary and has plenty of birthday benefits in store. For this important anniversary, the only digital television in Croatia treats its subscribers to a promotional subscription at half the price for one year. New benefits await all existing subscribers.
In 2012, Croatian Post became the only post in the world to offer its own digital television service. evotv is the only fully mobile digital television service available in Croatia that requires no permanent address, a fixed telephone line or an internet connection, whether on the mainland or the coast, without drilling walls or wiring.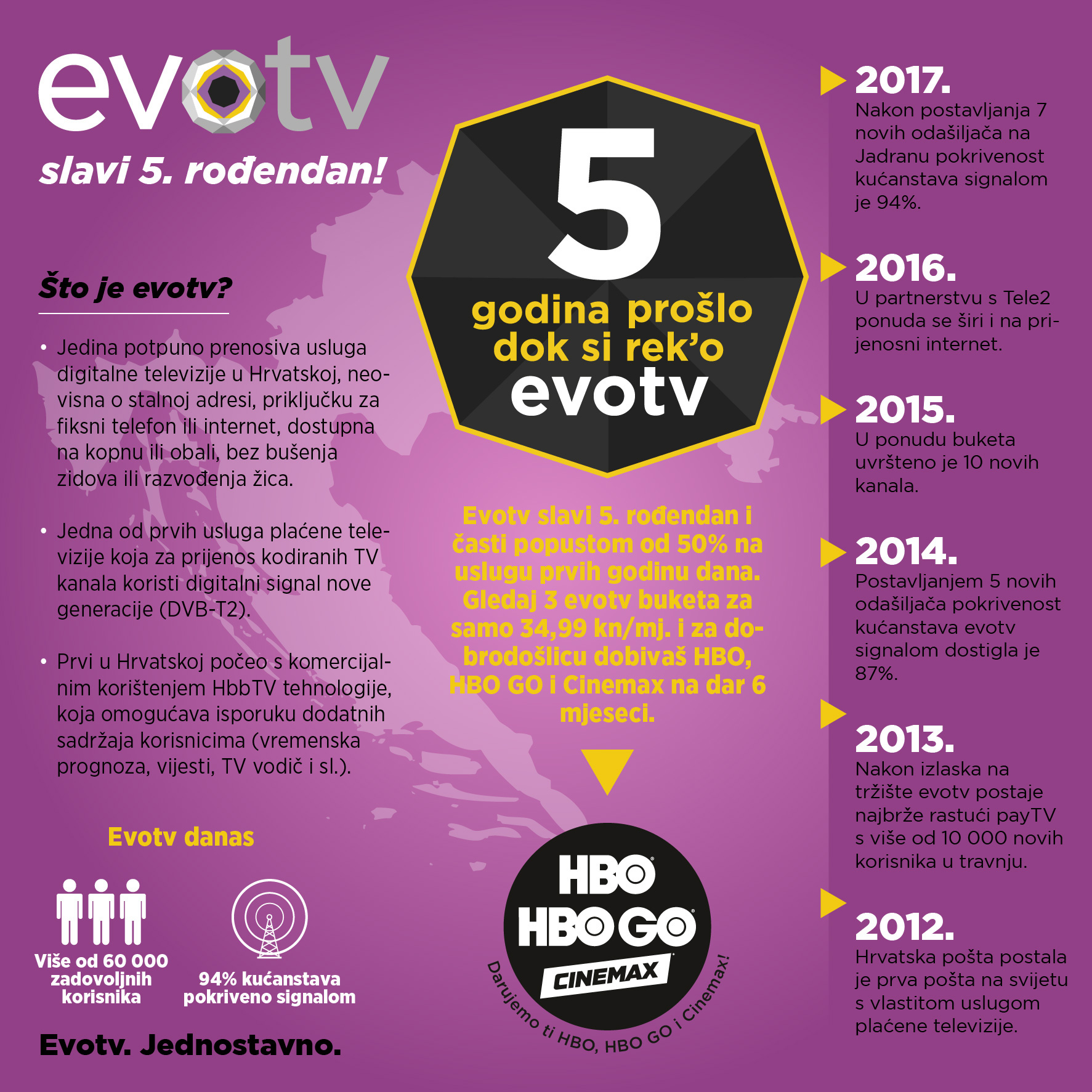 evotv has stood for novelty and innovation from the very beginning. They were the first in Croatia to start commercially using the HbbTV technology which allows delivery of additional programs (weather forecast, news, TV guide, etc.). It is also one of the first pay TV services to use the new-generation digital signal (DVB-T2) to broadcast encoded TV channels.
The number of subscribers has increased since the start of commercial broadcasting and evotv now has over 60,000 satisfied subscribers. The 94% household coverage is a result of transmitting digital TV signal through 24 transmitters. This year, we put into service seven new transmitters (Promina, Krk-Kras, Rota, Pag, Ćelevac, Biokovo and Sveta Nedelja) and reached almost full coverage.
evotv's simplicity is well-known to all subscribers because they can choose the bundles they prefer and carry their digital television wherever they go, connecting their digital receivers to TV sets very easily and quickly.
Everyone will find something to their liking among evotv bundles -
HBO & Cinemax
and
Film & Children
,
Documentary & News
for curious ones eager to learn,
Region
&
HD
,
Entertainment & Music
for music enthusiasts, and
Sport
to give sports fans their daily dose of athletic excitement.
For its fifth birthday, evotv treats you to a 50% discount off the service rate for the first year. The price of three bundles starts as low as HRK 34.99/month and evotv gives you HBO, HBO GO and Cinemax free of charge for 6 months. The promotion is available at
https://www.evotv.hr/novosti/evotv-godinu-dana-u-pola-cijene
.